[ROM ICS / SENSE 4.1] █

ELEGANCIA

Rom Series █ V 8.0
Description
Après, le sense 3.6 et le sense 4.0, voici le sense 4.1 de chez
Elegancia
. Il y a 2 versions, la stock et la couleur. Les 2 versions sont compris dans le même zip.
Possibilité d'enlever le sense à l'installation dans aroma.
Android ICS 4.0.4 Rom base is from VilleC2 RUU 2.31.401.5 + VilleC2 RUU 2.31.401.100 + VilleC2 RUU 1.11including the latest HTC Sense 4.1
Aroma Installer
Enhanced Audio Beats included and fully functional
Kernel Sebastian FM @ 1.5Ghz included
TMOus Wifi-Calling
TMOus Wifi-tethering working 100% and free
Battery %
Enabled GPU UI rendering
Blue highlights
Deodexed, zipaligned, tweaked
Synchronization fully working
Improved SD card read ahead
Advanced Power Menu
Zram enabled
Sqlit3 and openvn support
Extra Quick Settings
Advanced Power Menu
Busybox + runparts
Location is enabled
A lot of junk removed
Screenshot by pressing Power and Home
Sony Bravia Engine - HQ Image and Movie improvement
Elegancia
tweaked Sound System
Looking for Rom stability, outstanding battery life and smoothness? Welcome! You are at the right place!
Trying this Rom once, is adopting it for always
Images & Vidéos
C'est une image sense 4.0 mais c'est juste pour vous donner une vision du thème colored de la rom.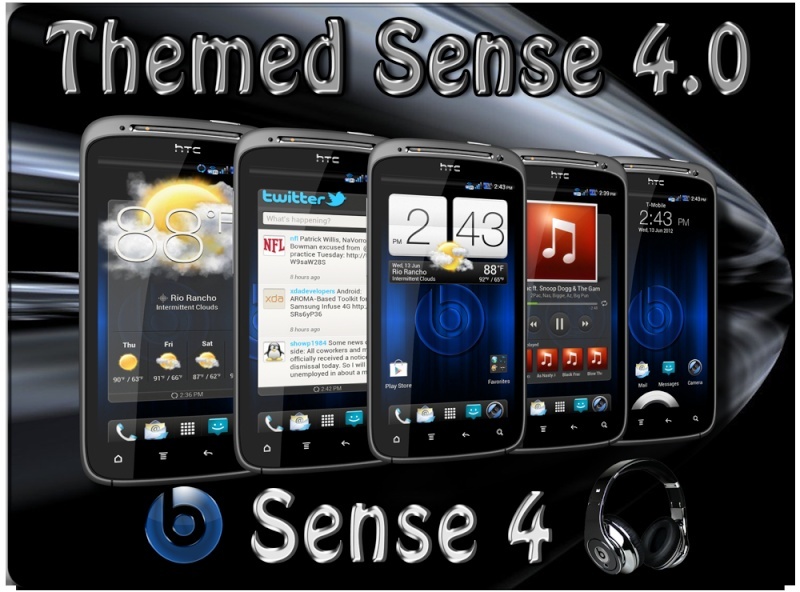 Voici quelques screens avec et sans le skin bleu en addon.
Spoiler :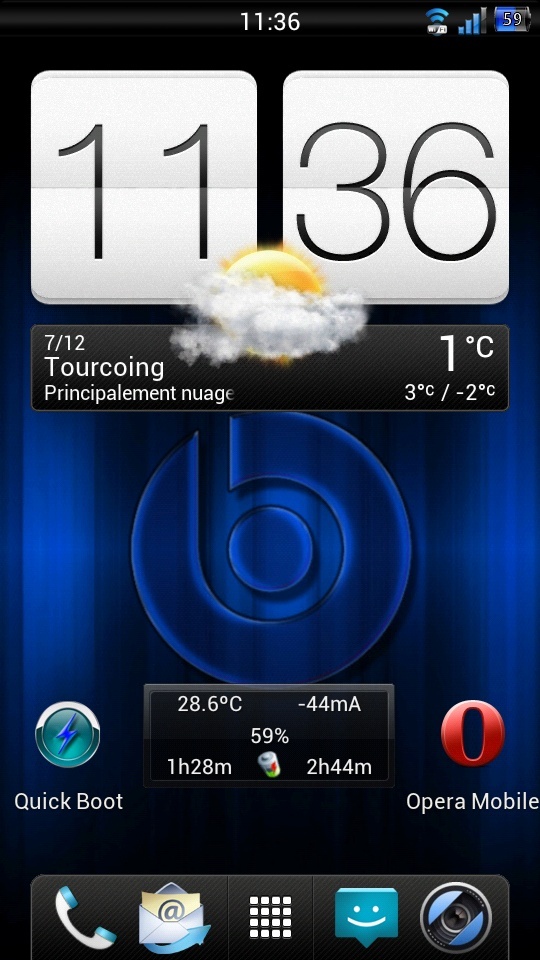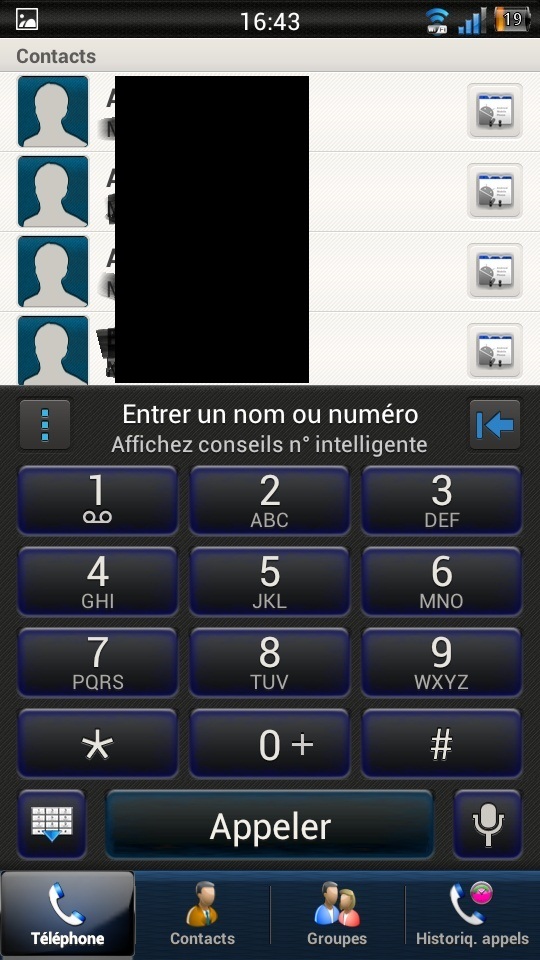 Derniers Changements
Elegancia
- Sense 4.1 - V8.0 (Full Rom) - (29 Septembre 2013)
Changelog:
   Added script to call sudaemon, which should overcome the Superuser issues.I posted a vid last night in our team Whatsapp to show the guys how the speed of granting increased.
   Also added fstrim, better known as lagfix
   Ty his
Elegancia
theme has been updated.
   As well as the playstore apps...
Spoiler :
Elegancia - Sense 4.1 - V7.5.0 (Full Rom) - (28 July 2013)
Quote:

changed SuperSu to Superuser by Koush, should fix delay issues
fixed dialer search by name issue
Merged all previous otas into v7.5.0
Temporally disabled OTA system due to some fc reports
Updated all PlayStore apps

Elegancia - Sense 4.1 - V7.0.0 (Full Rom) - (15 May 2013)
Quote:

Full Wipe is mandatory
Don't try to do incremental, it will end up in system failure


Reverted back to SebastianFM v1.5.2 as default kernel
Update APM recovery icon
Temporally reverted back TurboBoost v2.8.0 (v3 is available in MyElegancia)
Changed ADJ/OOM sleep value to 40sec instead of 65sec (Caused some issues - Delay to long)
Removed 4Ext Touch Recovery update from Aroma (Due to incompatibility with s-on users)
Fixed a lag issue due to wrong permissions and Zipalign
Updated WiFix to 1.32 (Fixed WiFi issues for Iranian users for example)
Changed OTA installation from cache to SdCard (Due to Swap on /cache incompatibility)
Updated Taiwanese language (Thx MelodicRainer for translation)
Updated MyElegancia (some bug fixes)
Elegancia (non colored) Phone and dialer icons updated
Beats icon should not disappear while getting a notification
Overall performance should be better
Zipaligned
Updated all Playstore apps

Elegancia - Sense 4.1 - V6.0.0 (Full Rom) - (9 May 2013)
Quote:
Incremental update is possible.
But if you encounter any weird issues then please consider a full wipe and fresh install.

Removed TurboBoost v3 from initial rom installation (Still available via modification menu)
Added new Start menu in Aroma (Saves some vague choices)
Fixed Aroma bug which caused a a second and empty build.prop
Added Xloud, Bravia and Fastdormancy to Additional install menu
ADJ/OOM Settings reverted back to old values
Added 4ext Touch Recovery version check to Aroma
Added 4ext Touch Recovery.img flash when recovery is outdated (Thx mike1986.)
Reverted back to P.Y.D v4.1.9 as default kernel (No mods available, Please use KernelTuner for you desired settings)
Updated MyElegancia to v2.3 (Thx MikroSmile) HUB downloads ain't working in beta due to old server config
Zipaligned
Updated all Playstore apps

This release fixes the lag some users experienced with TurboBoost
To overcome this issue we temporally removed the Turboost MOD from main installation menu
It is available via the Additional mods menu

Elegancia - Sense 4.1 - V5.0.0 (FULL ROM) - (16 April 2013)

Quote:

Full Wipe is mandatory
Don't try to do incremental, it will end up in system failure

Rebased the rom to 2.15.720.150 Asian Ville C2
Removed all Tweaks
Fixed Stock Elegancia default skin which was particly green (blue every where)
Added two new aroma menus: Additional App Restore & Additional IME T9 Restore
Added optional Indic IME keyboard
Added some User fail checks to Aroma for theming, additional apps
Removed Atom and Nova Launcher from DeSensing (They are available in Playstore)
Added Incremental Update fail check (Delete app which aint selected)
Added MyElegancia v1.2 (Elegancia HUB Store) thx to MikroSmile & Jonny
Added MyElegancia to Settings
MyElegancia has a new Temporally Banner by mdpgc & V6-Maniac
Added NoLockscreen to Settings -> Security
Ty updated his theme for Elegancia Sense 4.1 Colored version
Added new keyboard
Keyboard Arrows is now optional via keyboard settings
Updated PlayStore to the latest version
Set OTA Update to SDCARD as of expiriment to overcome the TurboBoost and OTA fail issue
Replaced Keyboard Theme for colored version(For testing purpose)
Fixed OTA Update non working progress bar
SebastianFM v1.5.2 Boot.img instead of zImage installation
Removed old and unused kernel modules
Update HtcDialer Elegancia stock to match stock installation (Set Green dialer button to blue)
Changed Dialer laucher icon from green to blue to match stock installation
Removed Kernel restore from aroma (Not needed anymore due to MyElegancia)
Added Dialer and Gmail to NavBar on fresh installation

Due to the new HUB i removed some additional features from the rom
Which will be available in the HUB or rom

Removed mods from Aroma:
Removed Keyboard arrow mod (Now available in Keyboard Settings page)
Removed Battery % icon mods (Now available in HUB)
Removed All kernels, set SebsatianFM v1.5.2 as default (More kernels available in HUB)
Removed skins from Aroma (Now available in HUB)
Removed HTC ONE sounds from Aroma (Now available in HUB)

Performance:
Overall performance is faster depending on you configuration of course
But the rom is more battery efficient and stable.
Rom size reduced by 70mb

Beware of the following major Aroma change:
One major change you have to be aware of.
Normaly you select apps to install.
When applying future v5 or above incremental flashes apps which aint selected are now deleted.
This does not apply for a fresh install.

Elegancia - Sense 4.1 - V4.0.0 (Full Rom) - (1 April 2013)
Quote:

Full Wipe is recommended due to deep system changes
Removed Tweaks app
Removed Tweaks Smali codes
Added new feature to Aroma (not fully tested) - Additional modifications menu
Removed Elegancia Tweaks menu option from Settings.apk
Removed Elegancia Tweaks menu option from Rosie menu
Added some extra tweaks to build.prop
Added Keyboard Arrow mod as optional choice to aroma
Added some Batt icons mod as optional choice to aroma
Added keyboard arrow mod as optional choice to aroma
Added xloud and bravia mod as optional choice to aroma
Added additional rom ODEX menu option to Aroma (Thx Dublinz for the idea and Paul oBrian for a part of the script)
ODEXing has some advantages.
Most known ones are a faster rom, better app response and less memory footprint.
Disadvantages are longer boot time and harder to theme.
But you can ODEX Elegancia colored version on one condition.
You must have a fully running colored rom and then apply ODEXing.

Elegancia - Sense 4.1 - V3.8.0 (Full Rom) - (28 March 2013) Easter present
Quote:
Revert services.jar OOM settings to default
Updated SuperSU
Updated Play Store Apps
Removed init.d call from init.post_boot.sh (init.d is working propperly)
Added HTC Z710e model Selection
Added HTC Z715e model Selection
Updated TMobile US model Selection
Added HTC Z710e Orange UK model Selection (Incl core files & signalboost)
Added HTC Z715e Orange UK XE model Selection (Incl core files & signalboost)
Added sdcard free space check for aroma theming option
Fixed DeSense Model selection
Added TurboBoost v2.8
Added extra TurboBoost feature (/system swap)
Added Added TurboBoost restore menu to Aroma
Added /System free space check to TurboBoost restore menu to check if there is enough free space
Added Added ADJ/OOM custom values restore menu to Aroma
Added Added SDCard Custom Speed Tweaks restore menu to Aroma
Added Added Undervolt Custom values restore menu to Aroma
Added Elegancia additional Theming menu option to Aroma for those who are bored of the Stock version
Added Sense 5 Notification sounds as optional in Aroma
Updated Aroma header notes, icons, ect
Updated /system/bin files and hope to solve some issues
Fixed Incremental update for colored version
Fixed custom background and custom color tweak for colored version
Added new Aroma menu option (Faster GPS fix)
Fixed Bricked kernel restore option(Typo in Aroma)
Fixed Faux Kernel restore option (Typo in Aroma)
Updated rom with Ty his fixed theme
Fixed color mismatch bottom menu bar (Thx Ty)
Fixed color for pin (Thx Ty)
Added centered Transparent Clock Widget (Thx Dublinz)
Added new theme to Aroma
Added Aroma Installer Theme selection

Elegancia - Sense 4.1 - V3.7.0 (Full Rom) - (10 March 2013)

Quote:

Mail Exchange security disabled (Thx misiek_to_ja)
BT Wakelock fix
Elegancia Tweaks updated (Same as v3.6.1 ota)
Rethemed colored version (thx TY)
Streamplayer fixed
No wifi issue after first initial setup possible fix
Added Elegancia additional rosie & battery icons theme to Aroma
Fix for Facebook/Friendstream Livefeed contiues sync when not selecting friendstream in Aroma
No reboot possible fix
Autobrightness tweak fixed
Captive backlight tweak fixed

Elegancia Tweaks App new features

Infinite Rosie scrolling added
Wallpaper scrolling toggle added
Rosie image bg added
Added Long Press Search button remap options
Long Press Menu remap options fully working incl custom app
Logcat enable/disable toggle added
Rosie Icon theme
Added 4 kernels to Aroma
Change default wallpaper
Fixed non changing lockscreen icons on Rosie Icon Theme (Reboot needed to apply)
Added undervolt options to Aroma
Added (per request) Orange UK Signal Boost as optional in Aroma (not tested)
Added Turboboost restore menu to Aroma
Added Kernel restore menu to Aroma
Delete some apps which are available in PlayStore (Google+, Chrome beta, Sense3.6 sounds)
Fixed Desensing, Fully working now and now issues with stock or themed version
Changed default Matte skin to Elegancia skin (Default HTC with Matte part and bits)
Did not update Turboboost, had some issues with it which i first have to review

Elegancia - Sense 4.1 - V3.6.0 (Full Rom) - (16 February 2013)


Quote:
Rebuild the rom from scratch
Inserted Hidden PowerSaving Settings in Settings.apk
Reintroduced the good old Elegancia 4ext Recovery theme
Adjusted ADJ/OOM (memory) settings to hopefully a average setting
Reverted Bravia Engine to v1
Edited android.policy.jar (Set ADJ/OOM back to default HTC Sense settings)
Deleted a hidden Tell HTC string
SuperSU Delay on Grant has been solved
Zygote sudden kill has been solved (should solve sudden lag and reboots)
Changed the init.d script folder behaviour
Added TURBO BOOST as experiment (Use at your own risk!!!) thx to delta-roh & Harbir
Added more TurboBoost option in Aroma (Swap to Cache,Data & System)
Fixed bootloop on DeSening Elegancia
Updated all Market app
Zipaligned with the latest SDK

Main concern is that the sudden reboot, lag and memory issues are over
Elegancia - Sense 4.1 - V3.5.0 (Full Rom) - (7 February 2013)

Changelog:

BT Download page is working (received files)
Captive backlight setting in tweaks app is working (Reboot needed to change)
Fixed MusicBox EQ, all sound eq's should be working now
Fixed poping sound when selecting next or previous songs in music app
Fixed some system errors and this means more battery life
Chrome working without glitches
WiFi Hotspot working on PYD 4.1.9
Fixed SuperSu issues
Batt calibration added to init.d script
Bricked kernel v1.4 added as optional
Faux 01b10 added as optional
SebastianFM v1.5.2 added as optional
Reintroduced the Aroma config backup (Needed testing)
Fixed wrong low mem config, kernel overrides init.d settings (thx axetilen for helping)
Fixed Spanish IME which wasn't installed, Aroma typo
Updated SuperSU to v1.0.1
Set fixed ADJ/OOM settings which should fix issues for some users
Updated all market apps
Added latest Chrome version to Aroma
Zipaligned with the latest SDK
And some stuff i may have forgotten about

By fixing the lowmemory config means a lot of users who play heavy games won't see reboots or reloading Rosie.

Elegancia - Sense 4.1 - V3.4.0 (Full Rom) - (22 January 2013)
(Full Wipe is mandatory: No incremental update )

Change Log:
-Update Links inside Tweaks app (wrong links due to OP layout changes)
-Toggle Custom Boot & Down Animation is working
-Toggle Custom Boot-sound is working
-Fixed a other tmous fingerprint issue.
-Fixed toggle Xloud Engine not working properly
-Toggle Long Press Home button recent apps working
-Zipalined with latest SDK
-Updated build.prop
-Removed Bricked kernel
-Added P.Y.D v4.1.9 (Beta) kernel as default
-Battery life improvements
-Improved Memory Management
-Reverted ADJ/OOM settings back to default (Should fix issues when user overrides the settings)
-Rosie long delay should be fixed
-SuperSU long delay should be fixed
-Reverted Weather Provider from Sense 4 (should fix wrong forecast)
-Improved overall speed
-Cleaned unused bin, lib files
-Transparent 3x2 clockwidget is now working in themed Sense 4.1
-Added MusicBox (Thx lyapota for the original mod)
-Reverted back stock font size (Download fontchanger from the PlayStore to change fonts)
-Updated PlayStore apps
-Just one hell of a performance boost

To Do:
-Fix captivebacklight adjustment
-Fix AutoBrightness adjustement

Elegancia - Sense 4.1 - V3.3.0 (Full Rom) - (09-01-2013)

(Full Wipe is mandatory: No incremental update possible)

- Included 3.2.1 OTA
- Jumpy updating icon and text in colored mail fixed (Thx Vicai & Ty5982)
- Added YouTube 4.2.16 (v2b), 720p HD over WiFi & 3G (Thx theos0o) - Stock version
- Added YouTube 4.2.16 (v2b) inverted color, 720p HD over WiFi & 3G (Thx theos0o) - Theme version
- Fixed Sweep2Wake issues for good
- Fastdormany toggle in Tweaks should work now
- Simplified Aroma installer to reduce error when theming
- Fixed non sticky freq's and governors for Bricked installation
- Possible WiFi Calling fix for Tmous users when they do a incremental
- Reduced overall font 10% smaller (makes it look slicker and better readable incase of oversizing language sentence
- Update links in the about tab in EleganciaTweaks (False links due to reordering the OP)
- Possible fix for 4G icons in themed version for Elegancia Colored Version
- Fixed fc when selecting custom background for notification pull down in Tweak app
- Fixed Tmous script which didn't insert the right Device fingerprint
- Edit ADJ/OOM setting to more multitasking friendly
- Change default wallpaper for stock version (Thx juancubo)
- Font size issue in Blue_Glass skin widgets fixed (Many Thx to saugbaer)

V3.2.0

Rewrote Aroma
Found kernel culprit and fixed in Aroma
Found culprit for battery % mod and fixed in Aroma
Added ADJ/OOM fix from v3.1.1 OTA
Added option for full wipe or incremental installation
Added option in Aroma to save chosen/checked options for the next flash-=- Aroma Saving Config for future use - DEMO -=-
Added Phone Model choice in Aroma
Added TaKeControle (thx Pacha) script for Bricked Kernel (More battery life without performace decrease)
Updated all Playstore apps
Changed the way how the theme is flashed. (Should overcome issues like no batt % and Tmo 4 icons)
Removed some stuff from the build.prop this should give some speed improvement
Removed sysctl.conf from the rom which was one of the reasons causing kernel issues
Also init.d is controled by the rom/kernel no need for sysctl.conf
Removed thermald and vold from /bin folder (most kernel have them aboard)
Fixed frontcam left/right inverted pics
Fixed frontcam vid upsidedown for good
Fixed Chrome GFX Glitches for good now (Status bar chrome shine true aint fixed yet)
Fixed some Bluetooth issues for some users
Transparent 3x2 clockwidget should now be working for all users
Saving MMS should be working for all users now
Rom speed improved (not for bechmark apps, don't give F about them)
Fixed LD Tweaks brightness issue causing reboot
Fixed phone vibration in call
Removed additional MOD restore from Aroma since incremental update is possible
Removed kernel menu from aroma for now and maybe will return in the future (if you want a other kernel then flash it manually)
Arabic Keyboard is working (at my side)
Incremental update from v3.1.1 or older seems possible but no guarantee

V3.1.0

Full Rom: FULL/SUPER Wipe is IS REQUIRED if coming from Sense 4.1 v.3.0.1 or older version
(recommended for better performance)

- Gmail to stock
- Fixed Arabic FC IME
- Fixed no reboot after selecting faux kernel (missing line in aroma)
- Fixed no text in mail widget
- Added extra clock into the Clockwidget which were requested by some users
- Fixed sudden reboot issue when SebastianFM kernel is installed
- Added Xloud fix which came via OTA
- Removed music app from Aroma and implanted it into the rom (no music app means no custom mp3 sounds)
- Removed Gmail colored theme
- Fixed Tmous colored 4g icons
- Changed Aroma IME installation, Now you can select more languages to install instead of one
- Possible fix for chrome GFX glitches
- Fixed no txt in the mail widgets
- Fixed Aroma colored MOD additional restore packages not installing batt % icons
- Added Juan batt % mod (thx mate)
- Fixed Calender not syncing without having Calender installed
- Updated Faux kernel to 010b8

V3.0.0

Full Rom: FULL/SUPER Wipe is IS REQUIRED if coming from Sense 4.1 v.2.3.1 or older version
(recommended for better performance)

- Rewrote the entire Aroma Installer (7000 new lines)
- Fixed Flashlight popup menu (Issues for some users)
- Fixed Flashlight button push (Issues for some users)
- Fixed stability issue that some users were facing with some kernels
- Fixed Beats icon not showing for some users
- Fixed the Overscroll color
- Added Full Wipe in Aroma Installer
- Added Custom OTA System - OTA via rom it self (Thx m0narx for the guide, files and permission)
- Added two roms in one zip (Stock look and Colored look are cooked together)
- Added advanced Aroma menu
- Added /system files restore to Aroma
- Added kernel restore to Aroma
- Added Change Log menu item to Aroma
- Added Additional HTC apps restore menu to Aroma
- Added Additional mods restore to Aroma
- Added Leedroid Tweaks v1 (Thx j4n87,Leedroid and Romanb)
- Added 4 kernels and all as optional (Faux, Bricked, SebastianFM and PYD)
- Added Leedroid Tweaks to Settings and Rosie (Thx j4n87 for the permission)
- Added Blue Glass as default skin on Elegancia Colored themed version (thanks to timberwolf671)
- Added Matte Skin as default skin on Elegeancia Stock themed version
- Added TVout (in settings)
- Added new Graphical drivers from 2.15 VilleC2 RUU
- Added EQS (thx to J4N87)
- Added APM (thx to J4N87)
- Added option to disable HTC lockring in Security Settings (Power up your phone with out unlocking it) thx Jonny
- Added new restore packages to Aroma installer
- Added xLoud option during Aroma installation
- Cleaned rom - removed unnecessary files
- Improved performance
- Increased overall speed
- Disabled NFC Support (No hardware to support)
- Changed Stock Wallpaper on Elegancia stock version
- optimized and debugged all applications and framework files
- Updated some libs for more stability
- Updated SuperSu
- Updated SU bin file
- Updated HTC-RIL_4.0.0037HMQ ril files
- Updated Google Play to 3.10.9
- Updated all PlayStore apps
- Zipaligned with the latest SDK
- Others updated & changes


V.2.3.1

- Full Rom: FULL/SUPER Wipe is IS NOT REQUIRED if coming from Sense 4.1 v.2.2.0 (but recommended for better performance)
- Improved battery Management
- Removed the Email Exchange security
- Back to Sebastian 1.5.2 as default kernel
- Others changes & updates
V.2.3.0

- Full Rom: FULL/SUPER Wipe is IS NOT REQUIRED if coming from Sense 4.1 v.2.2.0 (but recommended for better performance)
- Improved speed and performance
- Fixed the Radio (now speaker out working)
- Fixed HTC Hub
- Fixed Chrome browser bug
- Optimized and debugged framework+applications files (thanks to shnizlon)
- Cleaned-up the Aroma scripts
- Cleaned-up the Installation scripts
- Merged more Android 4.0.4 packages
- Added HTC Watch
- Added the ability to remove more stuffs during the Aroma Installation
- Added Polaris
- Added New Nice skins (thanks to Jerrytan93)
- Added SmartSync Disabler (thanks to j4n87)
- Updated the kernel
- Updated and improved the overall sound System
- Updated Youtube HD
- Updated all GAPPS
- Updated some parts of the overall theme (colored Sense 4.1)
- Updated Audio and graphics drivers from Ville C2 RUU
- Updated SuperSU
- Updated build.prop
- Updated Atom Launcher (for De-Sense)
- Updated Nova Launcher (for De-Sense)
- Updated Apex Launcher (for De-Sense)
- Updated GooglePlay applications
- Zipalined with latest SDK
- Others changes & updates
Téléchargement
Si vous souhaitez la version stock, je vous recommande la 8.0, si c'est la colored qui vous intéresse, prenez la 7.5. Il y a un soucis sur la colored dans la 8.0. La différence entre les 2 versions est minimes, quelques mises à jour d'applications.
Elegancia V8.0
Elegancia Sense 4.1 V7.5
Installation
Prérequis
1- Firmware 3.33 recommandé ( pas besoin si déjà installé précédemment)
dispo ici
(merci à Caramel pour le tuto)
2 -Mettez à jour votre recovery
4ext  recovery Updater  
Source==>
site officiel
Installez l'apk sur votre rom actuelle, cliquez sur la 1ere ligne, "Installation en ligne et mise à jour", et suivez les instructions et choisissez le dernier recovery touch.
Installation
1- Sauvegarde de vos données personnelles avec l'outil de votre choix (titanium backup, my backup pro...)
tuto
2- Redemarrez en recovery
3- Faites un backup de votre rom actuelle, on est jamais trop prudent
4- Wipe all except sd card
5- Install zip from sd card et choissisez la rom
6- Aprés l'installation, rebootez le système
7- Laissez le système ce mettre en place après avoir configurer le téléphone, laissez le reposer 5 minutes.
Bugs
-HDMI
Autres Infos
Source
---
Dernière édition par s0geking le Mer 29 Jan 2014 - 9:13, édité 77 fois